The decision to get married and have a wedding is one of the most complicated ones an individual can make in today's society. It's right below deciding to bring an unwilling new life into the world (AKA having kids).
First, you have to find someone who you not only can stand to be in a room with for hours but someone you also actively want to spend time with and sleep next to despite their deafening snoring. This usually happens somewhere between your 20s and 40s, just when you started being able to pay your bills on your own but before life's disappointments suck the last ounce of optimism from your personality. Then, you suppress the existential dread, choosing your idea of true love over the fear of the unknown, and commit yourself to another unpredictable human being for the last 75 percent of your life. Then sprinkle on top an average of a $35,000 party (a price tag higher than the average student debt) with all the nuanced, pressurized traditions and bake at 115 degrees with summer heat.
I was one of the lucky ones. When only half of adults are married (compared to three-fourths five decades ago), finding that person where your personalities, life trajectories, timing, and willingness to commit all align is a coin toss. But somehow I found my squishy, funny, adventurous, smart, and lovingly sweet partner in crime.
We married this past July in my hometown of Sacramento, California after three years together. I love my now-husband. But my decision to get married was always a complicated one. On the one hand, I had designed my wedding dress at the age of 12. On the other, I'm not religious and don't believe in most of the trappings of a traditional wedding. We planned the wedding without the help of a planner, mainly because we didn't want to spend any money on things that we deemed unimportant in the grand scheme. I would scroll endlessly through vendor profiles and inspiration photos, and I began harboring a major case of wedding envy.
The photos and videos of gorgeous brides and their gorgeous grooms at their gorgeous venues made me feel like I was not perfect enough to be a bride. I never went full bridezilla, but there I was, a feminist, well-educated young woman, worrying whether my wedding was going to be cool enough to post on Instagram. I felt a lot like Janice Ian in Mean Girls.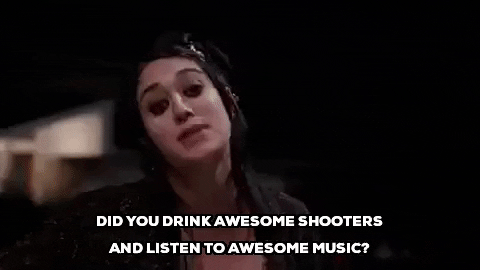 Anyone with a calculator can tell you that the wedding industry is in no way set up to benefit young couples making a big change in their lives. Not only are weddings financially taxing on the couple and their families, but they also bring up psychological insecurities and philosophical ideas that are difficult to navigate on a normal day. But I had fallen victim to the wedding-industrial complex. Every time someone asked me if I was excited about the wedding or how I was preparing, I couldn't help but feel like I was answering wrong like there was some cheat sheet with all the answers I forgot to read. So like any type-A personality, I made a mental list of the things that made me an imperfect bride.
I gained weight before the wedding.
As a woman, the pressure to be thin for your wedding is very real. As soon as we got engaged, I knew that at some point I would cry about my insecurities about my weight. Losing weight had always been a struggle for me. Additionally, I had once witnessed a relative's bride faint at the altar after starving herself the day of the wedding because her dress was too tight. I was planning the wedding in the midst of finishing my second year of grad school and while rehabbing my body after a major hip surgery. I simply did not have the time, energy or money to worry about losing weight. I wanted to enjoy my time being engaged, not punish myself by eating broth and cleansing.
But when I went in for my first dress fitting, two things happened. As I sat in the waiting room, I could see a bride trying on her beautiful mermaid wedding gown. She was about 5-feet and maybe 110 pounds soaking wet. As the seamstress went to work, the bride said to her friend, "I'm just worried my butt is too big." The seamstress rolled her eyes, as I assumed she does at every bride that walks through her shop. The bride wanted to lose five more pounds before her wedding in a month. I was truly afraid she might just evaporate if she lost any more weight.
When it was my turn to step into the dress in the changing room, I couldn't help but feel the anxieties that came up when I originally went dress shopping. Formal dresses weren't my thing. I couldn't take myself seriously enough to feel comfortable, let alone beautiful, in any of the ones I tried on. So the dress I chose, while perfect for me with its blush color and high-low hem, I realized was non-traditional and interesting enough to hide all the insecurities I felt about being a bride and having all eyes on me. If they had to look at me, the comments would be about the dress.
And then I tried to zip up the dress. It wouldn't zip. The women that worked at the dress shop were nice. They blamed it on a faulty zipper. But on the inside, I was screaming, "THE DRESS DOESN'T FIT!" and I knew it was due to my gaining 10-15 pounds since buying the dress. Eventually, the wonderful seamstresses fixed the issue (the satin ribbon belt was too tight), but not before I spent a night or two sobbing to my then-fiancee over the backless dress I felt I could never wear because of my rolls. But I'm glad I did tell him about my insecurities.
Eventually, the wonderful seamstresses fixed the issue (the satin ribbon belt was too tight), but not before I spent a night or two sobbing to my then-fiancee over the backless dress I felt I could never wear because of my rolls. But I'm glad I did tell him about my insecurities because like any good partner in crime, he taught me a valuable lesson: you should never sacrifice your happiness for an ideal that makes you feel guilty when you don't live up to it. Nobody in his or her right mind will tell you on your wedding that you are fat or ugly. To the one that matters most, you will be the most beautiful person in the room. And if, after the wedding, you want to lose some weight or get stronger, you have all the time in the world to do it in a healthy way without all the pressure.
I was not an emotional bride.
We had been together a total of three years before we got married. When my very religious uncle asked me at the rehearsal how I felt about the wedding, I shrugged and told him I was happy, but I felt more or less the same as the last three years had. I wasn't spazzing out from excitement. I wasn't weeping with emotion. I was just calm.
I learned he later told my parents, perhaps jokingly, that's why you shouldn't live together before you get married. Leading up to the wedding, people would ask me how I felt. And all throughout the day of the wedding, people came and went from the bridal suite, asking, "How are you not freaking out right now?" or "You're the picture of calm." In their minds, I should have been either sobbing from happiness or a ball of nerves. I was neither.
I remembered having a conversation with a close friend about the difference between getting married and committing yourself to another person. She asked me how I felt about being engaged because she and her boyfriend had recently talked about being married. I replied that to me, there is a difference in the day you declare your commitment and the day you actually decide, in your own mind and heart, that this is the person you promise to say yes to, no matter what. People want to see emotion and spectacle to make a moment feel more real. They want to see those glossy magazine photos with a bride and groom crying. The wedding was one of the happiest days of our lives, but we didn't cry. We almost cried. But we had already committed ourselves to each other ages ago.
Though my wedding was important, I wouldn't let it overshadow my accomplishments.
Is getting married something to view as an accomplishment, or isn't it? You can read some of the debates
on that feminist question here, here, and here. I graduated my master's program only a few weeks before my wedding. Yet 75 percent of the time people asked me about my wedding planning and not my degree. I would shrug and say, "It's pretty much planned itself." Then I would continue talking about the client project I was working on.
But the wedding was not something I struggled to achieve. It was not a political statement. It was not the start of the rest of our lives together. On the night of our rehearsal, the venue coordinator told me that when I walked down the aisle, I would feel the most love I've ever felt in the world. He was right. But my wedding does not define who I am. The people I love and the person I strive to be define me.
Minutes before I left to see my husband for the first time on our wedding day for our reveal, I was alone in the bridal suite. I stood looking at myself in the mirror. I had a small pimple on the bottom right side of my chin, a product of naively getting a facial the day before and now covered by airbrushed makeup. My hair was curled, but my bangs looked slightly weird due to my sweating from walking around in heels. The dress was definitely tighter. And I realized, I was never going to be a perfect bride, and that was completely fine. There is no such thing.